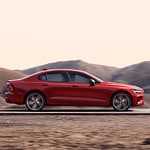 The Volvo S60 is a premium sedan that is proof that you can have luxury along with performance. You are able to choose from multiple powertrains for this vehicle. The right one for you depends on the type of power you are looking for, and the team at Volvo Cars of Bloomington can help you decide.
Models with the B5 powertrain are moving around with a turbocharged 2.0L engine and a mild hybrid system. Together, they produce 247-horsepower and 258 lb-ft of torque. All-wheel drive is standard, and you have a responsive eight-speed automatic transmission to keep your commute smooth.
The Recharge T8 plug-in hybrid powertrain is a turbo and supercharged 2.0L that produces 400-horsepower and 472 lb.-ft of torque. You can also opt for the Polestar Engineered model, which is able to get 415-horsepower and 494 lb.-ft of torque out of that engine. The drivetrain and transmission remain the same.